Govinda, a famous actor, comedian and entertainer, has made us laugh, cry and smile through his brilliant performance in many Hindi films. He is known for his dancing skills, quirky attitude and free spirited personality. On the occasion of his birthdaytoday, here are 5 finger snapping , ultimate Blockbuster songs featuring Govinda that you can never get enough of.
Sona Kitna Sona Hain – From the film Hero No.1
Govinda and Karisma Kapoor were one of the most beloved 90's onscreen Bollywood couple. This song truly was a literal translation of their onscreen chemistry and rapport. We definitely agree that he was her "Hero No. 1"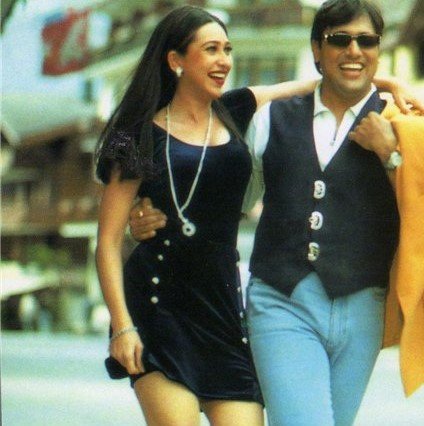 Image Courtesy – s3.scoopwhoop.com
Main toh Raste Se Ja Rahaan Tha – From the film Coolie No. 1
One more song that proved that Govinda can pull off the wackiest songs. The song was an immediate rage the minute it was out and set an interesting tone for future releases. So tell us, "tujhko mirchi lagi to main kya karoon?"
Image Courtesy – images.tunefiles.com
Akhiyon Se Goli Maare – From the Film Dulhe Raja
This song was another instant hit with its catchy tune and dance step. This song was so popular that a full fledged feature film featuring Govinda and Raveena Tandon was soon named after it.
 Image Courtesy – http://img.biscoot.com
What is mobile number? – From the film Haseena Maan Jayegi
How often do you sing while asking for someone's number? Not too often we're guessing. But that never stopped Govinda! The essence of his style is out of the box dance and lyrics, and he really does manage to make us jump up and dance each time he's on screen.
 Image Courtesy- https://i.ytimg.com
Ande ka Funda – From the film Jodi No. 1
Chichi managed to connect an age long riddle to love and life and also turn it into a song while making us dance with him. The most interesting bit is, that even after all these years we still cannot get enough of the song or his quirky dance moves. So what do you think? who came first, the chicken or the egg?
 Image Courtesy-www.youtube.com
Govinda has managed to teach all his fans that age is just a number and what matters is the inner child and ability to make people smile at the drop of a hat. So here's wishing the 90's star, lover, entertainer and Hero No.1 a very happy birthday! We hope you keep smiling and keep making us smile.
Download dittoTV now and enjoy LIVE TV on-the-go for just Rs.20/month.